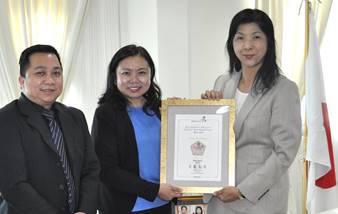 (The following article appeared in the Brunei Times on Dec 11, 2015. It was written by Darren Chini.)
UBD JOINS JAPAN FOUNDATION'S SAKURA NETWORK
BRUNEIAN students should take up a foreign language to improve their chances of getting a job after graduating.
"We've found through feedback that employers believe the ability to understand and communicate in a foreign language improves international communication skills," said Dr Joyce Teo Siew Yean, Universiti Brunei Darussalam (UBD) Assistant Vice Chancellor for Global Affairs.
"Employers really view proficiency in an extra language as an asset, and this enhances the marketability of a jobseeker to potential employers," she added.
She was speaking on the sidelines of a ceremony yesterday at the Embassy of Japan commemorating the UBD Language Centre's formally joining the JF Nihongo Network of Japanese language education centres worldwide established by the Japan Foundation.
She said Japan is one of the more popular destination choices for UBD students embarking on their Discovery Year programme, and that learning the language has boosted their chances of acceptance by Japanese universities for their foreign exchange programmes.
Ambassador of Japan to Brunei Noriko Iki presented a certificate to Dr Joyce Teo and Dr Noor Azam OKMB Hj Othman, Acting Director of the UBD Language Centre, on behalf of the Japan Foundation to commemorate UBD's joining the network.
UBD's partnership with the JF Nihongo Network, also known as the 'Sakura Network', will allow it to join a large network of 127 language centres in 48 countries which provide support and cooperation amongst its members in promoting Japanese language and culture through the UBD Language Centre.
According to Dr Noor Azam, Japanese is already one of the top languages being studied at UBD, with around 200 students taking beginner to advanced level courses this past year.
"It's one of the more successful minor degree programmes we have at the UBD Language Centre, so although the Japan Foundation has provided support to us in terms of facilitating the Japanese language classes in the past, we are proud and grateful to take this partnership even further," he said.
"We want our students to have a more global outlook when they graduate, so learning a foreign language – especially one as popular as Japanese – will allow Bruneian students to engage with a wider network," he added.
In addition to Japanese language being offered as a course for a minor degree programme, the UBD Language Centre also offers students the chance to take the Japanese Language Proficiency Test (JLPT).
The JLPT is the world's largest Japanese language test and is conducted annually worldwide to evaluate and certify the Japanese language proficiency of non-native speakers.